The Kankelborg Kronicles
Volume 9, Christmas 2001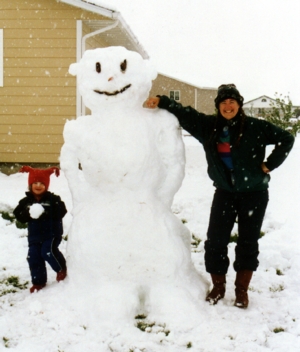 My how time flies! It seems like it was only last week that I was sitting down to write last year's Christmas letter. It is always fun to take a look back over the previous year and thank God for all His blessings. It is also fun this time of year to hear from friends and family who are flung far and wide across the globe.
Emma has grown so much this past year. She had her first haircut in January, went to her first symphony concert in February, and saw her first Shakespeare plays this summer – Twelfth Night (she liked Sir Toby Belch) and The Tempest (we had to see it three times). She continues to enjoy gymnastics and story time at the library.
Rarely does a day go by when Emma's not bouncing around the house, looking for attention. She is very active and very curious. She's especially proud of being a big girl and of all the things she can now do by herself.
Research brought us to Montana five years ago, and Charles is now even deeper into it with his rocket project (MOSES) that was funded by NASA this spring. As a result, Charles was promoted to Research Scientist. Meanwhile, he interviewed for faculty positions both here and at the University of Washington. We were thrilled when he was offered the position here. We love it here in Bozeman and are glad that our time here is no longer in limbo. Now he looks forward to teaching this spring semester.
Yes, Charles still travels a lot with his work. Besides his usual complement of trips to each coast, he spent a week in the Canary Islands at a conference. Emma and Carol accompanied him on trips to San Diego, where we stayed with his half-brother Lyle and family, and to Boulder, CO, where we visited several friends.
Charles has picked up a new hobby this year and continued in some old ones. Motivated by a project at work, he earned his Amateur Extra ham radio license (AC7NY). However, this hobby has taken on a life of its own, and our deck is now graced by a "modest" 20-foot antenna. He taught a Sunday School class in church history the first part of the year. He also enjoys volunteering with the Car Clinic, a local ministry that repairs cars for folks who cannot afford to maintain their cars otherwise.
Hiking and camping are just a few of the fun things we did together as a family. Camping included the annual Starwatch weekend at Ruby Reservoir and a weekend in Glacier National Park. Emma loves the outdoors, and that includes building snowmen in June. We woke up to about 7 inches of snow on June 13 and watched another 3 fall that morning. This is the test of being a naturalized Montanan. We gleefully headed outside to build a huge snowman.
Road trips bring friends and family together. In March, we took a road trip down to Salt Lake City to visit Charles' Uncle Charlie and Aunt Rachel. Uncle Charlie had lung cancer and passed away shortly after our visit. We were glad to have the chance to spend time with him as well as lots of other family member while we were down there. In May, Carol's parents drove out to see us for a fun week. In July, we had visits from several friends passing through. Finally in October, we three drove to Tacoma to see Grandma; then Carol continued to Portland to see the Sweet Adelines' International competition with several other women from her chorus.
International students abound even in remote Montana. We had the privilege this year of hosting two for short periods. In March, a Japanese student, Akiko, stayed with a for a week as part of a language learning program. In July, Amet, a teacher from Uzbekistan, stayed with us for a weekend. It was tremendous fun to get to know both of them and learn a little about their cultures.
Speaking of guests, we had the Blue Angels over our house this summer. They were only 500 feet over our house, and it is a little hard to carry on a conversation with all that racket... but during an air show like that, the only word you need is wow!
Three years ago, Carol "stopped working" to take care of Emma. Now she wonders how she ever found time to work. She continues to sing tenor with the local barbershop chorus, now called Bridger Mountain Harmony. She also serves on their board and maintains their web pages. She led music for Vacation Bible School this year and even survived the rowdy fifth and sixth graders' rendition of Pharaoh, Pharaoh. She led high school AWANA through the spring, but ceded that position to a few enthusiastic college students for this school year. Finally, she also serves as adult education deaconess at church.
Many other hobbies occupy Carol's time as well. She baked up a storm for the Winter Fair again this year and came away with ten ribbons, including two firsts. Of course, the baking doesn't stop when the fair is over. There are recipes to try and techniques to perfect for next year. Charles and Emma do not complain about being guinea pigs, though. When not baking, Carol is tending the yard and garden. God's good earth yielded fresh strawberries, apples, plums, peas, tomatoes, shallots, and herbs. Carol's experiments this year were an artichoke plant which produced 5 delicious chokes and cayenne peppers which Charles made into yummy and flaming hot sauces.
As if that were not enough, Carol also tried her hand at some sewing. Her parents brought out her grandmother's machine in May and her mom helped make curtains for the bathroom. In a fit of maternal insanity, she decided to sew Emma a halloween costume – a Max wolf suit à la Maurice Sendak's Where the Wild Things Are. Charles joined in the insanity and (with help from Emma) made huge papier-mâché Wild Thing heads for the two of us to wear.
So that is the tale of our year. We will spend Christmas in Pennsylvania with Carol's family this year. We hope you have a Merry Christmas and are able to take time out to reflect on God's blessings, including the birth of His Son which makes this season possible.
Merry Christmas and Happy New Year!