Volume 17, Christmas 2011
A Christmas Alphabet
A is for Advent, a time of preparation for Christmas, for the coming of the One who is the Alpha and Omega, the beginning and the end. May you experience God's peace in the midst of this season that has become one of frantic activity and unrealistic expectations.
B is for Blessings. It is fitting that Thanksgiving kicks off the Christmas season. We look back at how God has blessed us over the past year before we look forward to how we can bless others for Christmas.
C is for Church. This summer Charles became an elder at our church. Carol continues to serve on the Strategic Planning and Worship teams. Emma enjoys Youth Group.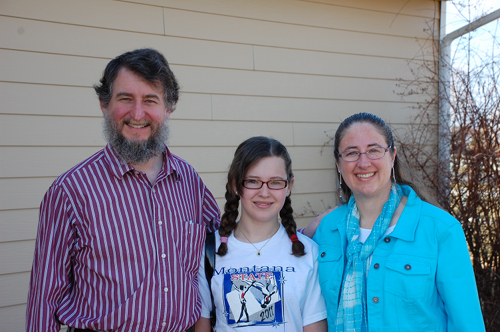 D is for Declutter. We visited Charles' mom in Tacoma in May and began the process of decluttering her house. We hope, God willing, to build on an addition to our house and move her to Bozeman next summer. We will return over Christmas and hope to make another big dent.
E is for Emma. Emma turned 13 this year and is becoming a beautiful, poised young lady. With teenagedom come contacts (yeah!) and braces (boo!). She enjoys reading, computer games, and playing with friends. She is almost, but not quite, as tall as mom. She likes 8th grade; her favorite subject is art.
F is for Flute. Emma plays flute in the school band. In the spring, Carol's teacher held a recital for all her students, giving Carol the chance to finally experience that dreaded rite of passage. Watch Carol perform Sweet Simplicity by Rhonda Larson as her recital piece.
G is for Grandparents. While Charles was doing a lot of business travel over the summer, Carol and Emma headed east to visit Carol's parents. They had a fun visit, catching up with cousins. Emma's favorite part was going to Ocean City, NJ, and playing in the ocean.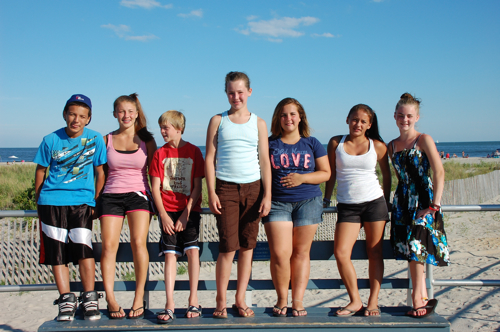 H is for Healthy. Three years of normal test results means that, by God's grace, Carol is still cancer-free. This does not mean that Carol is normal, just that her test results are.
I is for IRIS (Interface Region Imaging Spectrograph). Charles is working on this new NASA satellite planned for launch in December 2012. His sounding rocket, MOSES, is scheduled for its second launch in summer 2013. Charles' first grad student completed his PhD last spring. Watch a talk on IRIS Charles gave at the Museum of the Rockies in January.
J is for (door) Jamb. This past summer Carol took care of a backlog of maintenance projects in the yard, including painting and re-caulking the exterior door jambs (and the rest of the door frames) and staining the deck (sanding courtesy of Charles).
K is for Kavli. Charles had the honor of being invited to the Kavli Frontiers of Science Symposium in November. He and 47 other "distinguished young scientists" of all disciplines presented posters and listened to presentations in fields as varied as cancer research and exoplanets.
L is for Library. After several years of volunteering in the library at Emma's school, Carol is now helping maintain the school's computer lab. She is learning more than she ever wanted to know about Windows machines.

M is for Music. Carol continues to sing barbershop with Bridger Mountain Harmony. Right now, Carol is gearing up for the chorus Christmas show on December 11. Besides singing on the show, she will be playing in a flute trio that includes her friend Jen and Emma.
N is for Nimrod. This year the deer benefited from Emma's prayers for their protection. Nevertheless, Charles enjoyed the beauty of Montana and saw lots of wildlife. This year Carol and Emma took a Hunters' Education course. Emma and her friend Naomi went hunting with their dads on the youth-only days but to no avail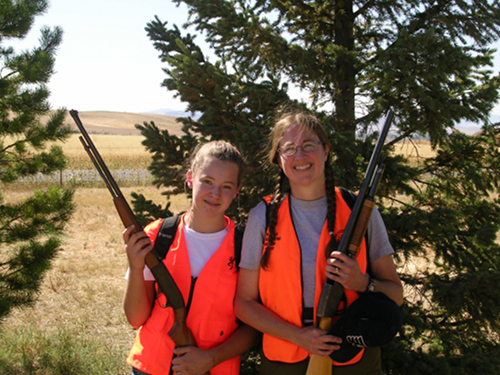 O is for Observing. In spite of Charles' busy travel schedule last summer, we still managed to participate in Stars over Yellowstone in July. The local astronomy club hosts public talks, star gazing, and solar viewing in the Park each summer. Charles enjoys interacting with the public, sharing the beauty of God's creation, and talking science.
P is for Prophet. Carol is now in her 6th year of in-depth Bible study on Wednesday mornings, studying Jeremiah. Over the summer she co-led a Beth Moore study on the Fruit of the Spirit.
Q is for Quadrupeds. Emma's two guinea pigs, Jewel and Whitefoot, are still alive and kicking, despite being senior citizens.
R is for Repairs. See J.
S is for Serving. Carol and Emma went with a group from church on "Spring Break Mission" to help prepare a youth camp for summer. The camp is run by Union Gospel Mission in Spokane and serves inner-city kids. Carol learned to put on shingles. Emma found an animal skeleton and spent a whole afternoon assembling it. Alas, Charles was stuck at home writing a proposal.
T is for Teaching. Charles is teaching Laboratory Electronics I in the fall, and will teach II next spring.
U is for Uneven Bars. Emma began the year at Level 4 in gymnastics. The most memorable meet was in Coeur d'Alene, ID, where she met former olympic gymnasts and we had a harrowing drive home in a snow storm. This fall she advanced to Level 5.
V is for Visitors. We did not have many visitors this year. Carol's parents came out to visit in April. We took them through Yellowstone the day after it opened for the season. There was still a lot of snow on the ground but the roads were clear and the views stunning. If you are ever in our neck of the woods, we'd love to have you come for a visit.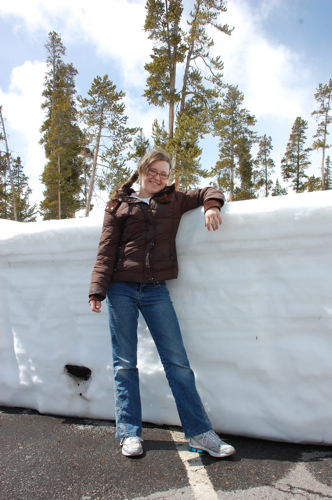 W is for Wolverine, Emma's new favorite animal. Check out the PBS documentary
X is for X-country Skiing. We cross-country skied as a family several times. In the summer we traded our skis for boots and hiked, exploring new trails as well as old favorites. Charles joined a few friends on a 21-mile slog along the ridge pictured in our masthead. Fortunately Carol & Emma, too intelligent to go on the hike, were waiting with food at the other end.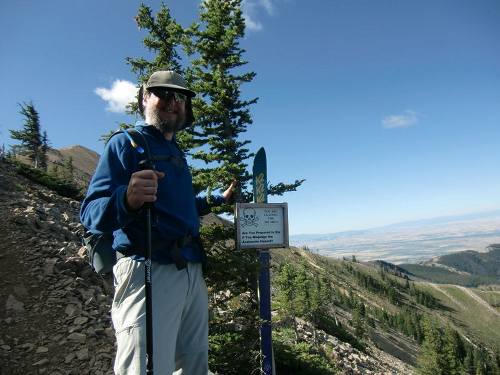 Y is for Yard. In spite of a cold, wet spring, the garden thrived, producing abundant crops. The fruit trees produced a manageable amount of fruit, but still kept Carol busy canning apples and plums. And tomatoes, but those didn't come from the fruit trees.
Z is for Zeugma. Have a Merry Christmas and New Year!
Charles, Carol, and Emma