The Kankelborg Kronicles
Volume 15, Valentine's 2009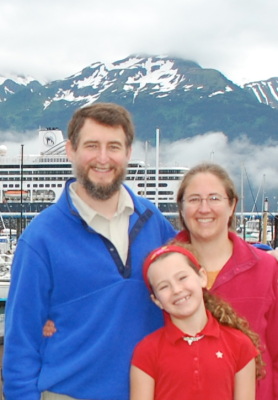 Greetings, friends and family. The sort-of annual Kankelborg Kronicles are finally here, in a special Valentine's Day edition. 2008 was quite a year for us. It did not have the ending we would have chosen, but God has been faithful through the ups and downs. If you keep reading, you'll see the reason for the delay, despite the best of intentions. Of course, we start out with those good intentions every year and they never seem to do us much good.
One word to characterize 2008 is travel. In March, we accompanied the senior high youth group to Moab for the third year in a row. It is always a great time of service and fun. After a chilly June in Montana, we were glad to head for the warmth of Phoenix to attend Linda's wedding, a friend of Carol's from her Endicott days. Emma was so looking forward to being warm, but did not find the 100-degree temperatures much to her liking. Keeping with the wedding theme, we also flew out to Seattle to visit Charles' Mom and attend his cousin Scott's October wedding. Both weddings were beautiful.
Dwight D. Eisenhower was president in 1958, the same year Carol's parents got married. To celebrate their golden anniversary, they took our family and Carol's sister Kathy's family on a cruise to Alaska in July. It was an incredible trip, both because we got to spend time together as a family and because we saw fabulous sights and wildlife. Among the souvenirs we came home with was the meat of the 98-pound halibut and some salmon that Charles caught. Less than a month after returning from Alaska, we flew back east for the big family reunion/anniversary celebration where Emma got to play with wall-to-wall cousins.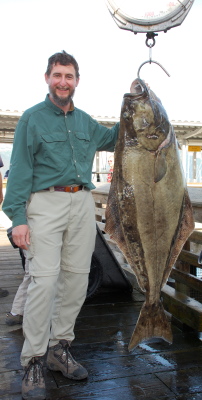 In between travels, life continued pretty much as normal. Charles and his students are at work preparing for the second launch of his sounding rocket instrument, MOSES. He took a break from teaching in the fall to work on a concept study for a proposed NASA satellite mission called IRIS. He is glad to be teaching his favorite class this spring.
When not working, Charles serves on the Heritage Christian School board (he missed the wrong meeting this year, and ended up becoming treasurer!) and keeps trying to hone his hunting skills to land that ever elusive four-footed, antlered beast. Part of that quest involved the acquisition of a "hunting vehicle." He replaced his aging '85 Ramcharger with a newer, more hunting-friendly vehicle, a '92 Chevy pickup. Unfortunately, on its inaugural hunting trip it got into an argument with a guardrail. Thankfully no one was hurt, so after a trip to the emergency room to be sure and unbending the bumper, Charles and his hunting buddies continued on their way. His friend Andy got an antelope, but the antelope danced around Charles, made fun of him, and gave him a wedgie. Charles settled for a supporting role in dragging out Andy's antelope (2 miles to the road!), for which he was later awarded a bag of great sausage.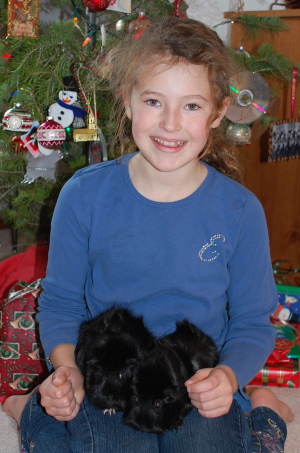 Seems like only yesterday Emma was just starting school. Now she is a fifth grader at Heritage Christian School (HCS). With fifth grade comes band. Much to Carol's delight, Emma chose to play the flute and let Carol teach her. Emma is doing very well at it. She continues to enjoy gymnastics and was invited to participate in two Level 3 meets. This involved extra practices, a little travel, and a really cool metallic blue leo (that's gymnastics lingo for leotard). She continues to be involved in Awana at church and performed with the HCS signers in the fall. Emma also loves to climb trees, though finding good climbing trees in Bozeman is a challenge. When we visited Grandma in Tacoma over the summer she got to climb over 45 feet up a giant sequoia in a special event at Wright Park. She scampered up the branches like a squirrel.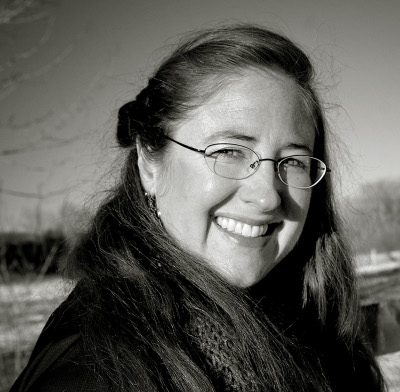 Last but not least, Carol continues her busy ways. She taught computers to Emma's class and volunteered in the school library. At church, she serves on the missions committee and a new strategic planning team. Her musical outlets include leading and playing flute for the Hymn Sunday worship team and singing tenor for the 11th straight year with Bridger Mountain Harmony. She also looks forward every Wednesday to the women's Precepts Bible study. Last spring she had the privilege of teaching a Bible study on 1 & 2 Thessalonians. In her spare time, Carol keeps the family stocked in fresh vegetables from her vegetable garden and as always, enjoys playing around on the computer.
Other highlights of the year include building a shed, a.k.a. barn, a.k.a. Borg cube, in our yard. After years of talking about it, we finally followed through. As an added bonus, Emma has taken over the loft as a playhouse. Now there is room in the garage for Charles' pickup.
Very early in December we had a day that Dickens would have aptly described as the best of times and the worst of times. On December 2, Charles learned he had been awarded a Presidential Early Career Award for Science and Engineering. It is a very prestigious award and not one he had expected to receive. Along with the award came a trip to visit the White House and meet President Bush. Carol's parents were able to drive down to be his guests at the awards ceremony. Carol was not able to accompany him because that same day in early December she learned that she had breast cancer. The award ceremony came right in the middle of trying to meet with doctors, get the right tests, and decide what the best course of treatment would be. God has been faithful through all this, providing encouragement, prayer support, and advice through friends and family and His Word. Because of surgery, our family was not able to travel to visit Carol's family for Christmas. Instead, we enjoyed a quiet Christmas at home.
The short version is that Carol underwent a mastectomy on December 29. The cancer had not spread to the lymph nodes which was a huge answer to prayer. Based on test results following surgery, she will have hormone therapy but no chemotherapy or radiation. Reconstructive surgery will be scheduled for sometime in the spring. For more details, you can follow Carol's blog at http://kankelborg.net/blog. She hopes to update it a couple of times per week. She is also on Facebook.
Even though this is a couple of months late, we hope you had a joyous Christmas and that 2009 will bring you many blessings. And, of course, Happy Valentine's Day.
Happy Valentine's Day!
Charles, Carol, and Emma