The Kankelborg Kronicles
Volume 14, Christmas 2007
NEVER A DULL MOMENT
By Emma Kankelborg
Kronicles Lifestyle Writer
This year was a good year! I had a mystery birthday party with my girl classmates, and it was really fun! I was Martha the Millionaire and I was finding mysterious and threatening notes in my breakfast cereal. Gulp! Now comes the scary part! Martha got murdered in the bathroom by a piano dropping on her head! (It's a big bathroom.) One of the robot's batteries was there, and there was a plate of macaroni and cheese, half eaten, beside her. Naturally, the Robot and French Chef (who likes food that isn't easy to bake like the macaroni and cheese Martha likes) were suspects. In the end, the limo driver ended up doing it out of jealousy to become a millionaire.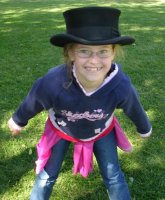 This year at Clydehurst (a fun camp) was awesome! I went horsebackriding 3 times, and we had a really cool counselor. Naomi, my friend, Carlin, someone I know from gymnastics, and Amanda, Carlin's friend, were in my cabin. This year I also finally got my braces off! Then I got a glow-in-the-dark retainer. Now I only have to wear my retainer at night!
My dad is hunting but hasn't shot anything yet. for my mom and dad's anniversary they went to Chico Hot Springs and had a good time!
My mom is teaching computer to our class. She told me to ask some friends what they thought about her lessons. I asked my friend Brianna, and she said they were interesting and not too hard and not too easy. I think that is good, don't you?!
For Thanksgiving we are going to Salt Lake to visit my Aunt Rachel, and for Christmas we will go to Tacoma to visit my grandma there.
I am in Advanced Recreation in gymnastics and it is harder because we do 15 mins. of conditioning with each of the three teachers. One teacher has abs, one has legs, and the other one has arms. After conditioning we do about a minute of splits, and I have an oversplit! An oversplit is more than a split!
PE and Art are my favorite subjects in school now. For Halloween I was a princess and we were on a trailer with a fire pulled by a truck and the truck would stop and we would jump off and trick or treat at those houses and then climb on and get warm while we waited for the next stop. Then we went and had pizza and cocoa.
Emma is an energetic fourth grader who loves to draw, write, beat Mom and Dad at "H-O-R-S-E", cross?country ski, read, solve mysteries, and do crafts. She wants to be a veternarian when she grows up. She is creative and caring. She now sports some stylish glasses but is glad to have gotten her braces off.
CHEZ KANKELBORG: THE PRINT THAT'S NEWS TO FIT
By Carol Kankelborg
Kronicles Editor in Chief
This year I thought I would enlist thehelp of a few staff writers for ourannual Christmas letter. Unfortunately, they did not leave me much space.
We did a lot of traveling again this year. In March we headed to Moab, UT, with the Senior High youth group again. It was a fantastic time and Emma was a real trooper again on the mountain bike ride and hiking. In June we drove to Tacoma, WA, to celebrate Charles' mom's 80th birthday. In July, we set our coordinates to Wall Drug to meet up with my parents who drove out to visit from PA. We toured the Badlands and Black Hills area, visiting Mt. Rushmore, Reptile Gardens, and the Mammoth Site. My parents then stayed a week in Bozeman and enjoyed the Sweet Pea Festival.
I continue to be heavily involved with Bridger Mountain Harmony. Somehow I managed to be elected president, which has been a learning experience. In October, I went to Calgary with a number of other women from my chorus and other Montana choruses to watch the Sweet Adelines International competition. I heard some amazing barbershop but did not see much of Calgary except the inside of the Saddledome and a few really good restaurants.
I still get to indulge my techy side in many ways. I maintain my chorus' website as well as the missions section of our church website. I also managed to get my arm twisted into teaching Emma's computer class, not that it took much coercion. My goal is to eliminate computer illiteracy, one fourth grader at a time. I also dabble in desktop publishing for both chorus and missions committee at church.
Besides serving on the missions committee, I continue to coordinate music and play flute for the monthly hymn Sunday at our church.
The most rewarding aspect of the year was lessons learned through various Bible studies and Sunday School classes. In the Precepts Bible study of the Old Testament history books I can sit at the feet of the likes of David, Solomon, and Elijah and learn from their victories and failures about how to live a godly life and about God's character. Other meaningful books read during the year include C.S. Lewis' The Screwtape Letters which gives incredible insight into how the "world, the flesh, and the devil" work to undermine our walk with God and John Ortberg's If You Want to Walk on Water, You Have to Get Out of the Boat which challenges you to step out of your comfort zone in faith as God calls you, just as Peter had to when Jesus called him out of the boat.
Carol can usually be located by following the yummy smells. When she is not busy spoiling her family, she can be found playing her flute or working in the garden when she is not traveling, singing, or at her computer.
PIGS WANT MORE PERKS
By Jewel and Whitefoot
Kronicle Mascots
We r Guinea Pigs. We r Emma's adopted sisters. We like 2 eat grass when it is warm outside. We r doing fine.
We do not like the idea of hunting. We will not eat meat. Never! We go 2 other people's houses when they are away. We r thinking of making our family take us 2 where they are going next time. We like it better at our own house.
Jewel and Whitefoot are furry, black Abysinnian guinea pigs. They love eating, playing, eating, cuddling with Emma, eating, and squeaking when they think we have food to give them.
UNGULATES 3, ROCKET SCIENTIST 0
By Charles Kankelborg
Kronicles Science Writer
It was a perfect plan. We would get up at 0:dark:30, wolf down some cold cereal, and then spend hours walking through the cold, windy Eastern Montana morning to hunt the wily antelope. I would sneak up on one and shoot it, spend a few hours figuring out how to disassemble it in the field. I would then buy a freezer from my friend who talked me into antelope hunting, while waiting for the processor to grind up the animal into sausage. Triumphant, I would bring home my 40 pounds of sausage, stow it in a small compartment within the giant, shiny new freezer, and then cope as best I could with Emma not speaking to me for a year because I shot a cute furry animal. Except for one thing. The antelope were smart. Smarter than a rocket scientist. Well, such was my first attempt at hunting. The second, third and fourth were also kind of like the first, but applied to different species like deer and elk. I had a great time though. Hiking through the wilds of Montana with friends is hard to beat.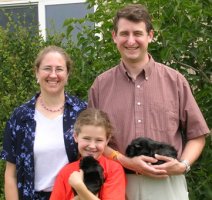 This fall, I had the pleasure of co-leading (with Chuck Kendrick) an adult Sunday school class on the Epistle of James. The book closely parallels the teaching of Jesus in the Gospels, but always in James' own words. I concluded that James frequently draws on personal recollections of his big brother, Jesus. Thanksgiving was a special treat. We drove to Midvale, UT, where we had a delightful stay with my Aunt Rachel and visited my cousins. Aunt Rachel is Italian, so Thanksgiving means that once you are full of turkey, it is time for the rigatoni to come out. I always have room for rigatoni.
Being a professor entails great personal sacrifice in the name of science, such as making the arduous journey to Hawaii for the AAS Solar Physics Division conference in May. In June Laurel Rachmeler from Southwest Research in Boulder stayed in our home for a few days. The biggest professional news for me (Charles) this year is tenure and promotion to Associate Professor. When I got the letter, my first thought was, "They'll live to regret this!" ;?)
We are anxiously looking forward to spending Christmas with Mom in Tacoma this year. May your Christmas also be specially blessed, because of the Lord who was born as a little child in a stable to save you and me, adding lots more "little brothers and sisters" to His family.
Charles, a physics professor at Montana State University, likes to read science fiction, enjoy God's great outdoors, wrestling with difficult physics problems, and pondering deep theological truths. His biggest claim to fame this year was having an asteroid named after him by grad school friend Joe Dellinger.
MERRY CHRISTMAS AND HAPPY NEW YEAR!
Charles, Carol, and Emma