The Kankelborg Kronicles
Volume 13, Christmas 2006
Dear Family and Friends,
As you well know, our whole family loves to learn new things. We thought we'd share with you some of the lessons we have learned in the past year.
1. Some things do take a rocket scientist ...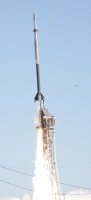 like launching a rocket. After five years of hard work, Charles' new solar instrument, MOSES, finally launched from White Sands Missile Range. Carol and Emma went down to New Mexico to watch it not launch in January. Then, on February 8, MOSES went up about 300 km and successfully returned to earth with 5 minutes of data. Charles' next task is to analyze the data. NASA was so impressed, it funded Charles' proposal for MOSES II so he gets to do it all over again in 2009. MOSES was built and tested mainly by undergraduate students. Charles also teaches classes and hopes to hear sometime next year (well, OK, this year by the time you get this) whether he will receive tenure. In his spare time, Charles serves on the board at Emma's school, Heritage Christian, and reads science fiction.
2. Don't buy skis ...
if you want snow. Emma loves anything that involves snow or speed. She had two days of downhill skiing through school which she loved. As a family, we outfitted ourselves for cross-country skiing towards the end of last winter. This winter (if you can call it that) has been mild with little snow. Our favorite cross-country ski course is a month late in opening. Coincidence?
3. April is a great time to visit Yellowstone ...
and so is September. Every season at Yellowstone has its own character. We love to show it off to visitors. We toured Yellowstone in April when Dennis, one of Charles' colleagues from grad school, visited. The ground was still covered with snow and we saw a newborn bison calf. We had not seen the park in early spring before. When our friend Beth visited in September we camped and discovered a number of great hikes in the Canyon area.
4. You can lead a girl to a mountain bike, but you can't make her ride.
Our family had the privilege of going to Moab, UT, with the senior high youth group from our church. We camped near Arches National Monument, overlooking a spectacular canyon. Charles gave one of the devotional talks. We were impressed by the youth and their heart for God. The trip included study, service, and fun. Emma was a trooper on several long hikes and enjoyed a week with 8 big brothers and sisters. She gave a good effort on her first mountain bike ride, but concluded that she was not getting on that bike again, no matter how hard we pleaded. Happily, this did not affect her love of flat biking. She loves zipping around the neighborhood on the new, larger bike she got for her 8th birthday.
5. Guinea pigs can detect a produce bag at 100 paces ...
and sit up and beg for food. Mom and Dad finally caved in to Emma's pleading for a furry pet. In May we got two baby guinea pig sisters, Jewel and Whitefoot. Emma loves having furry playmates. The slightest rustle of a produce bag or sound of a vegetable peeler sets them off clamoring "Feed us!" in their own special guinea pig way. Even Carol has to admit they are kind of cute.
6. Seven is not too young for an overnight camp.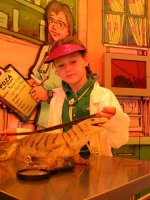 Emma pleaded to go to Clydehurst Christian Camp for a week. The camp is about two hours away in the mountains. She had a wonderful time making new friends, riding horses, doing crafts, and learning about God. All three of us survived the week and Emma is all set to go back next summer. She also enjoyed a Dinosaur day camp at the Museum of the Rockies. She has now abandoned a future career in art in favor of a dual career as veterinarian in the winter and paleontologist in summer.
7. There is a lot of fascinating history you don't learn in school ...
especially where Indians were involved. Emma read a historical fiction novel about the Nez Perce indians a year ago and wanted to visit Spalding, ID, where many events of the book took place. In August, we retraced Lewis and Clark's steps over Lolo Pass and on through Spalding on our way to Grandma's house in Tacoma, WA. The history surrounding the Nez Perce, Chief Joseph, and the Trail of Tears is fascinating but very sobering. We then went on to spend a week with Charles' mom. As icing on the cake, we got to see a small group of Nez Perce in traditional costume give a campfire talk when we camped in Yellowstone. It was a nice epilogue to our summer adventure.
8. Eight-year-olds do not have an OFF button.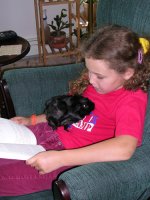 Emma loves to be active. She still does gymnastics and loves to do cartwheels and handstands anytime she has a little space. She ran in the Sweet Pea Children's Run again this year, running about 1 km at full bore. She must be part fish as she loves to swim whenever she gets the chance. In July, the whole family went up to Flathead Lake. Charles helped with a science camp for high school kids from the Salish-Kootenai tribes while Emma lived in the lake.
Emma can even turn the sedentary pastimes she enjoys, such as reading, watching the Sonics with Grandma, and even learning Bible verses for Awana, into aerobic activities. She has been seen on her knees in the middle of the living room floor, leaning over so that her head touches the floor, reading a book, slowly migrating across the room. Although she still loves crafts and drawing, she hasn't figured out how to do those while bouncing around the room.
9. Lice are amazing creatures ...
when they are not crawling around in your head. Yes, we learned the joys of lice first-hand when Emma picked them up somewhere and generously shared them with Mom. Charles had to learn the ins and outs of combing long hair and acquired debugging skills he never learned in computer class. In the process we learned more than we ever wanted to know about these creatures. On the positive side, we had some good mother-daughter bonding time watching The Wizard of Oz. Emma had an Oz-themed 8th birthday party in October and we all dressed as Dorothy (Carol), the Scrarecrow (Charles), and Glinda (Emma, in one of the dress-up princess dresses Carol helped Grandmom make while Carol's parents were out to visit in May).
10.There really is such a thing as too many pepper plants.
The vegetable garden was a success this year, perhaps too successful in the hot pepper department. Charles filled lots of jars with hot sauce from those peppers. The garden experiment this year was inter-planting corn, pole beans, and squash in an Indian-style layout. It was a good way to use the space efficiently.
11.Blood is thicker than slush.
Despite yucky conditions, we braved mountain passes for a quick jaunt to Tacoma for Thanksgiving with Charles' mom, sister-in-law, and family. We were surprised to discover an outstanding Mediterranean restaurant on the way—the White House Grill in Post Falls, ID, of all places.
12.Don't drink a large cup of tea ...
before driving from Tacoma to Redmond, WA, during rush-hour. Carol learned the hard way when she attended a Christian Musicians' Summit in November. She was able to spend a day with Charles' mom, then drive two hours north to attend the conference with a couple of other folks from her church. It was a fantastic time and gave her lots of things to think about as she coordinates and plays flute for "Hymn Sunday" worship one service a month. She continues to benefit from flute lessons. She also serves on the Missions Committee at church. It is neat to have a front-row seat to watch what God is doing around the world.
13.Always pay attention on a moving walkway ...
or you'll get a crash course in the principle of inertia. It happened at the Minneapolis airport while we were en route to Philadelphia to spend Christmas with Carol's family. Fortunately, Carol escaped with nothing more than a bruise on her ego and a bigger bruise on her backside. It is great to have the opportunity to spend Christmas on the East coast with Carol's family. Emma is having loads of fun with her cousins Brent and Lindsay this Christmas.
And last, but not least,
14.Don't wait until after Thanksgiving to write your Christmas letter ...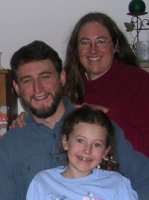 or it just might not get written until after Christmas. December was a very busy month for us. Carol's chorus, Bridger Mountain Harmony put on a Christmas show. She finished her 10th year singing with the chorus. The chorus received its first medal ever, placing 4th at regional competition in May. Carol also serves on the chorus board and is the chorus webmistress.
It has been a very full year. God has blessed us incredibly. We hope the new year brings God's blessings on your family as well.
We hope you had a blessed Christmas and have a Happy New Year.
Charles, Carol, and Emma