The Kankelborg Kronicles
Volume 12, Christmas 2005
Dear Family and Friends,
It is time once again to look back over the past year, share what we have been up to with our friends, and marvel at God's blessings. If there were a theme for the year, it would be James 4:13-15: "Now listen, you who say, 'Today or tomorrow we will go to this or that city, spend a year there, carry on business and make money.' Why, you do not even know what will happen tomorrow. … Instead, you ought to say, 'If it is the Lord's will, we will live and do this or that.'"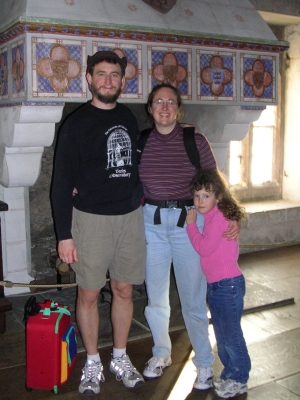 Charles, Carol, and Emma in the Tower of London.
Charles' major research effort for the past five years has been the MOSES rocket payload, which will study the Sun's atmosphere from 200 km above White Sands Missile Range, NM. The year started with the promise of a July launch. Several schedule changes later and the launch is now tentatively set for January 31, 2006. Charles took two trips to White Sands in August and November to prepare his rocket payload for launch. Despite many challenges with hardware, software, and scheduling, the payload is finally ready. Carol and Emma will head south for the launch when the time comes. On the way to the missile range in November, Charles' flight from Bozeman was delayed, he missed his connection, and got stuck in Salt Lake City for about six hours. What a lucky break! Cousin Natina picked him up at the airport, and he was able to spend the afternoon with her, Joey and Sheila. Next time maybe Aunt Rachel and Nancy and Gerald will be in town!
Charles taught a mathematical methods course for graduate students in the fall. The greatest challenge: never having had such a course himself! The experience was an education for students and professor alike. And though it was a hard slog, it was also a luxury to spend so much time learning cool math tricks.
When not wondering if next week will be the week she and Emma will have to head to NM to see a launch, Carol kept herself busy on the home front. This year's garden yielded a bumper crop of vegetables and fruit, especially raspberries and apples. Carol spent the fall canning every apple recipe she could find. It is such a pleasure and privilege to enjoy the fruit of the earth. Store-bought produce just cannot compare. Carol is in her ninth year singing tenor in Bridger Mountain Harmony. The chorus placed 6th this year at their regional competition.
Emma continues to delight us as she grows and matures. She has lost 7 teeth and is over 4 feet tall. At the end of first grade, she was sad to say good-bye to Hannah, her best friend, whose family moved to Illinois. Emma is now in second grade at Heritage Christian School and loves it. One of her favorite indoor pastimes is reading. She can read a book for hours on end. Her current favorite series is the Animal Ark series. As a result, she has expanded her career aspirations to be both an artist and a veterinarian when she grows up. She still loves to draw and amazes us with her artwork.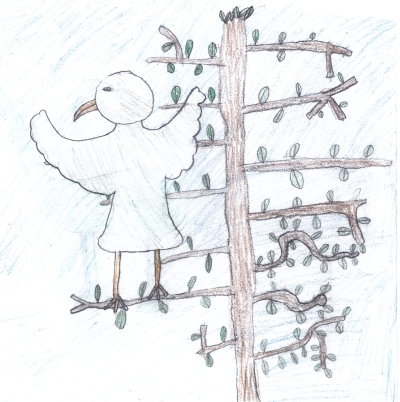 Emma's drawing of an eagle in a tree.
Emma is picking up some of the domestic arts as well. She enjoys helping Mom in the kitchen and can serve up a mean French toast all by herself! Emma is also learning to knit and sew. The other day she had a rip in her pajamas and insisted on mending it herself.
Emma turned 7 this year. For her birthday, we took her to the Ringling Bros. Barnum & Bailey circus that came to town. Not only did she thoroughly enjoy the circus, she got her picture and a quotation in the paper the next day.
Living in Montana, we are blessed to be surrounded by the natural beauty of the great outdoors. As a family, we went cross-country skiing last winter. In the warmer weather we enjoy hiking as a family. Emma's favorites are the "M" and Palisade falls.
Carol continues to exercise regularly and finally convinced Charles to join her. Carol ran in the Race for the Cure (5 km) in May and placed 6th in her age group. Emma had her turn in August, running in the Sweet Pea Children's Run (a half-mile). She ran so fast Mom had a hard time keeping up with her on the sidelines. Emma also loves gymnastics, basketball, swimming, and bike riding. Charles and Carol tried to teach Emma to ride her bike this summer, but it took two 8-year-olds to finally get Emma riding on her own. Once she started, there was no stopping her. One of Emma's favorite rides is to go down with us to a nearby pond and watch the geese. This fall our trees were finally mature enough to provide enough leaves for a real leaf pile. Emma was very excited about that and had a great time playing in the leaves.
We had a few major trips this year. In addition to his NM trips, Charles went to the UK in March to calibrate the rocket payload at Rutherford Appleton Lab. Carol and Emma came along for part of the trip, and we introduced Emma to the history, culture and architecture of England. Most memorable for her was playing in the park and feeding ducks on the Thames. We got to meet some of the U.K. Cochranes on the trip, including Emma's Great Great Aunt Sheila.
While Charles was busy with his rocket, Carol and Emma did some traveling on their own. They drove to Lustre, MT for Schmeckfest, a German food festival, and to visit our friends Rich and Norie. In July, Carol and Emma went to Boston and Pennsylvania while Charles was at White Sands. They attended cousin Steve's wedding where Emma got to meet even more cousins. They also took a quick trip up to Vermont to meet Uncle Jack and Aunt Joyce who came down from Québec. Returning to PA, Emma passed through 6 states in 8 hours. Just try that in the West! She has now visited over half of the 50 states. Emma swam like a fish in her grandparents' pool and learned to dive. Due to a flight delay, Carol and Emma got to spend a day at the Mall of America during their return home. In August, the pair hit the road again to visit Grandma in Tacoma. Three books on tape from the local library kept Emma (and Carol) enthralled, making the long drive go quickly. All three of us plan to visit her again over Christmas.
We always enjoy having visitors and showing off Montana. In April, we hosted a young Japanese university administrator, Megumi, for a week as part of an exchange program. She and about a dozen others took classes and worked at MSU for 6 months and then headed to another university for a second 6-month position. Carol's parents visited us at the end of May and again in October. It is always fun to have them come out. Carol's cousins Dick and Marie visited us in the fall. Finally, last month we had a visiting missionary, Linda Sauke, stay with us for one night.
After years of coaxing, both Carol and Charles are now on the Missions Committee at church. It is neat to have a front-row seat into how God is working in the world. Carol still plays her flute once a month at church and is expanding her involvement in the "Hymn Sunday" worship team. She took the bold step this year of resuming flute lessons in order to have some external pressure to keep her practicing and improving. Charles joined the board of Heritage Christian School this year. It is a joy to participate in the working out of God's plan for this school, which continues to be a great learning environment for Emma.
We look forward to hearing from all of you. Wishing you a meaningful Christmas season and a blessed New Year.
Charles, Carol, and Emma