The Kankelborg Kronicles
Volume 11, Christmas 2004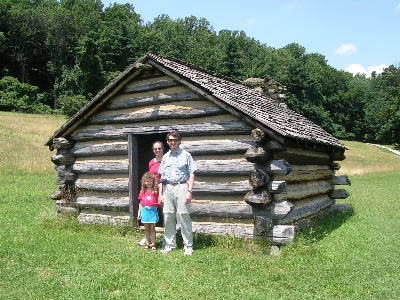 The Kankelborg's new Montana cabin? No, just Charles, Carol, & Emma at Valley Forge, PA.
Dear Friends and Family,
2004 has been a busy year for us. If there was one word to summarize the year it would be travel. Travel for pleasure and travel for work. Sometimes a bit of each on one trip.
January found us in San Diego. Charles had a conference to attend for two days, but we toured SeaWorld and the San Diego Zoo. We enjoyed a lovely weekend together with Charles' brother Lyle and family.
Carol's father celebrated his 75th birthday with Carol, Kathy and their families on a cruise to Bermuda in June. We had a fabulous time together, both on the ship and on the island(s). Emma and cousin Brent whiled away the hours at sea learning chess from Charles. Emma also favored the shipboard night life, seeing the shows with dancing and singing and elaborate costumes. In the dry cold of this Montana winter it requires imaginative effort to conjure up the warm, humid memories of snorkeling, sea kayaking, hiking, and other fun activities on and around Bermuda. The kids had a great time swimming in the surf. Carol got to visit her old school!!
Charles' one disappointment this summer was that his sounding rocket launch was delayed. He and the students are working hard though, and plan to launch in summer '05. Meanwhile, other means of pyromaniacal release were explored...
In July Charles helped with a high school science camp at beautiful Flathead Lake. Carol and Emma came along and spent a couple of fun-filled days splashing, swimming, and making new friends. The camp was on the Salish-Kootenai reservation, and we had the privilege of learning a little about native American culture. Charles meanwhile taught the campers to make rockets. The campers visited MSU for the weekend, and on Saturday we launched 50 rockets?most of them twice! Charles categorically denies that he was trying to land one on the tennis court roof.
In July and August, we camped in Yellowstone while Charles helped out with night and daytime public star gazing. Emma became a Junior Ranger! The Betzes visited for a few days, and we enjoyed a visit to Virginia City where we shopped, had ice cream, saw a blacksmith demonstration and took in a vaudevillian play.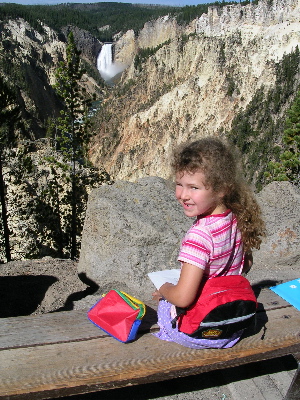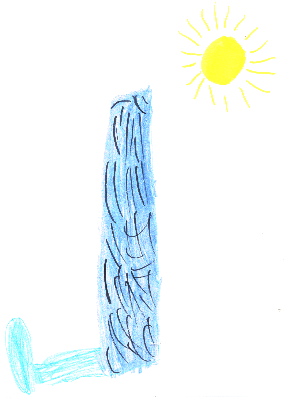 Move over, Thomas Moran, Emma draws the Lower Falls of the Yellowstone from Artist Point.
Emma began first grade in September. She still loves Heritage Christian School, where her favorite subject is recess. But she learns to read in her copious spare time and is now able to entertain herself with books on long car trips. Yessss!!!
Charles managed not to kill or mame anyone despite hundreds of miles of driving on the left side of the road in England and Wales on his third annual UK trip in November.
Were we to report our year's activities systematically, it would require several hundred pages and an attached CD-ROM. However, we surveyed our readers and discovered a median attention span of 40 column-inches (but only if there are pictures). To summarize: Emma played dress-up with friends, enjoyed gymnastics, went to trampoline camp, had her first dance recital, and even some piano lessons. She helped daddy build a sandbox that got lots of summer use. She learned to shoot baskets well enough to play and sometimes win at H-O-R-S-E. Charles read some cool sci fi novels, enjoyed teaching and working with his research students, and learned a few more applied math tricks. He shared his love of science through fun public talks and demonstrations in schools, church and other places. Carol sang with the Sweet Adelines, tamed her own computers and those of several lucky friends, fluted, gardened, helped with Vacation Bible School, volunteered in the school library and helped first graders with math. She exercised a lot but has made no progress; she and Emma together still weigh the same as they did the day before Emma was born.
We were blessed in many ways during the past year. We hope it was that way for you too, and wish you much joy in the coming 12 months.
Merry Christmas and Happy New Year.